We Do not
Promise Anything

Click for More Details
It's not by chance one makes a choice.
It's by choice one takes a chance.
So don't take a chance.
Call 020 84 20 10 40 now
and make the right choice.
Fire Extinguisher Covers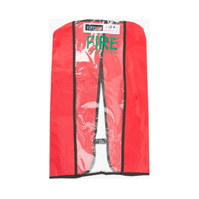 These fire extinguisher covers are made from red vinyl with see through plastic in the middle, and have velcro closures for easy access to extinguishers.
The prime functionality of these covers is for protection of Fire Extinguishers and are conveniently one size that fit all sizes of extinguishers.
Fire Extinguisher Stands & Cabinets also available on order.